Junior High
load
Carrier Parts Diagram
The Highload and Junior Highload Carriers were for many years the main types of wire and yarn carrier supplied by B&F Carter and many are still in service. In recent years they have been superseded by the Supaload© carrier.
Please use the diagram below to help with identification of missing or replacement parts needed for the Carter Junior Highload carrier. A full listing of part numbers is given below: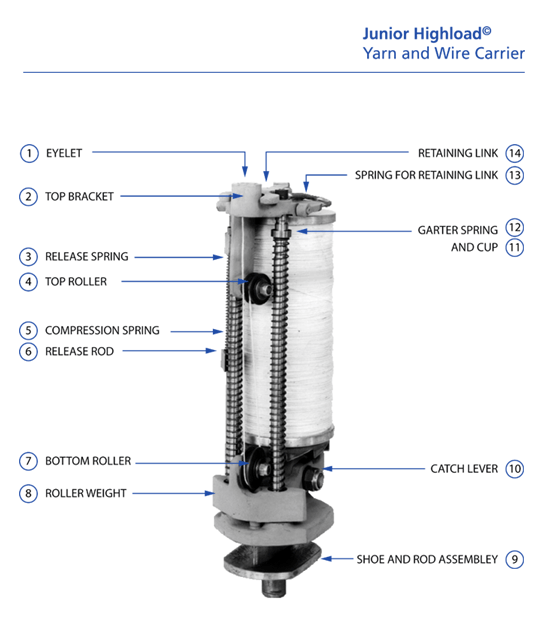 Highload high capacity wire carrier designed for Carter Braiders
Parts List
Item

Component Part

Stock Number

Drawing Number

1

Eyelet

588266

2

Top Bracket

700222

3

Release Spring

700265

4

Top Roller

700267

5

Compression Spring

700254 - 700257

6

Release Rod

700223

7

Bottom Roller

700268

8

Roller Weight

700272

9

Shoe & Rod Assembly

700202

10

Catch Lever

700277

11

Cup

700262

12

Garter Spring

700258

13

Spring for Retaining Link

700226

14

Retaining Link

700261

Notes:

Descriptions and designs given herein are not binding.

Improvements are made from time to time and the right is reserved to modify specifications accordingly without notice.

Many of the mechanisms and designs incorporated in the products of the company are covered by patents in the United Kingdom and elsewhere.
Should you require assistance with parts identification for any Carter machinery, please do not hesitate to contact us.